The commotion near our gate at San Francisco International Airport was at a fever pitch.
It was Wednesday, April 4, 2018, and my wife and I were about to board a cross-country flight from San Francisco to Boston. We had just spent an extended Easter holiday with my sister-in-law, her husband, and our new baby nephew, and our coast-to-coast jaunt would take us to more family and a wedding in Gloucester, Massachusetts, a tiny fishing town perched along the Atlantic Ocean.
Sitting at a restaurant just off our gate, the airport din was the perfect white noise for the task at hand: polishing off a time-sensitive project for a new client.
As the second person to join Wentworth Financial Communications—after founder Scott Wentworth, who launched the company in 2015—I'm given a lot of flexibility in where and when I work as the firm's Chief Operations Officer.
Most of the work that WFC does is virtual, meaning it is completed online through digital channels. The same goes for how we communicate internally and with many of our clients. If it's not in-person, it's through text, email, or a bevy of project-management software platforms and communication tools.
The moment served as an important lesson for what life is like in a two-person content marketing agency in the digital era: There is no typical "work day" at WFC. It's more of a constantly moving digital "work life." Embrace it. Some days will seem more routine and traditional; others will be unpredictable.
Embracing flexibility and work-life blend in our work at WFC is something I've learned a great deal about in my first three months on the job.
While WFC has central office space in Chicago, there are many instances where we work in remote or virtual environments, both during normal working hours and off-hours. In addition to the core team of Scott and I, WFC's roster comprises writers, editors, and designers who work as contractors and live across the United States and Europe.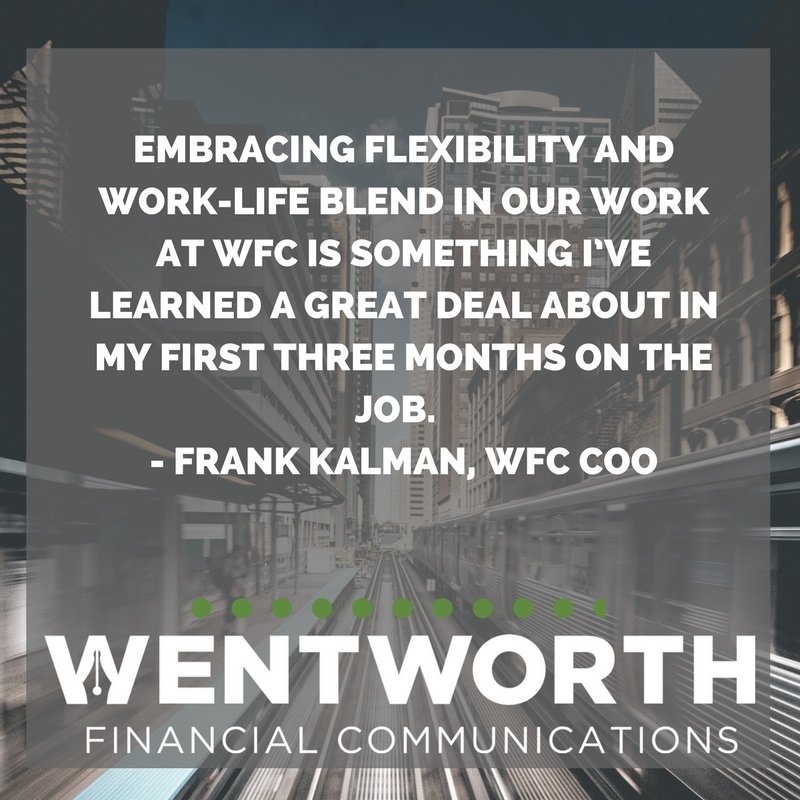 Many companies are experiencing similar evolutions in how they work, thanks to the proliferation of communication technology and shifting workplace norms. But for a small, scrappy outfit like WFC, I've learned that the ability to be flexible in when and where we work also has unique benefits for our clients as well.
For starters, the fact that WFC is a small agency makes us better suited to tailor projects to each client's unique needs. It gives us the ability to not just complete projects in a timely manner but to handle spur-of-the-moment needs whenever and wherever we are—like at an airport, or 30,000 feet in the air on a cross-country plane ride.
Additionally, when it comes to completing the work, our size and flexibility provides us with a simplified communication structure that often leads to better, more efficient decisions. Plus, thanks to technology, even when Scott and I are physically apart, we are still constantly connected and able to make quick decisions when necessary.
Finally, each proposal we create for clients is entirely custom. Because we're not burdened by lots of overhead, we don't have pressure to create off-the-shelf solutions that are simply to help us scale quickly. Instead, we create project plans based on the exact client's needs, down to the smallest details.
As COO, it's my job to ensure that each and every project we take on runs as smoothly as possible. Having the flexibility to work where and when I prefer (within reason) has been a huge advantage in my ability to deliver on that promise thus far.
But most surprising about this unique benefit is that I find myself working more, not less, than I otherwise would in a more traditional environment. Yet, at least for me, it doesn't feel like I'm working more. Maybe it's because Scott and I are having fun diving into our client work—while also enjoying our non-work lives at the same time.
Being able to enjoy your work and your work-life blend is a nice situation to be in. It's paying dividends for Scott and I, and we know it's paying off for our clients, too.
---
About the Author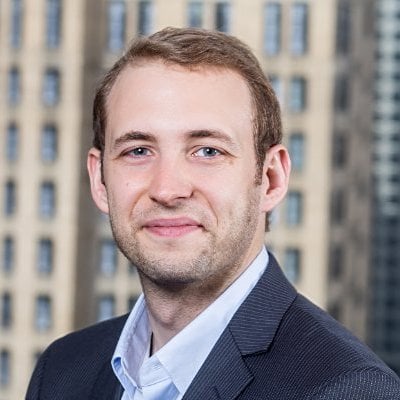 Frank Kalman is the chief operations officer at Wentworth Financial Communications. Frank and the team of writers and editors at WFC help professionals across the financial services industry build their brands by creating investment-grade white papers, bylined articles, newsletters, blogs, social media posts, and other forms of content marketing.