WHAT WE DO
Crafting the Right Message for the Right Channel
In financial thought leadership, it's not just what you say, but how and where you say it that counts. Leading financial brands count on us to articulate their expertise—and determine the best vehicles and channels for delivering those ideas.
Our Content Toolbox
Whether it's a traditional, text-driven article or an interactive, multimedia experience, our writing expertise and knowledge of the marketing landscape allow you to tell your story and engage your target audience.
Our Vehicles
We use our writing skills to help clients articulate their expertise across the following types of content:
Blogs
Shorter, recurring posts that give your firm a forum for commenting on timely developments and connecting with readers using a more engaging voice.
White Papers
Deeper dives for communicating more complex, bigger ideas backed by research and informed by your unique perspective. 

Video and Motion Graphic Scripts
Live-action or animated videos that take large, complicated concepts from your thought leadership and distill them down in an engaging, visual format.
Quarterly investor letters and fund commentaries
Compelling, informative, and compliant reports that keep investors engaged with and updated on your firm's performance.
Bylined articles and op-eds
Articles and opinion pieces that capture your voice, validate your expertise, and elevate your profile using a media publication's existing platform.
Slide decks and brochures
Collateral that concisely conveys your firm's capabilities and points of differentiation to support your business development efforts.
Landing pages and microsites
Digital environments that use video, graphics, and other interactive elements to house your thought leadership and bring your ideas to life.
Infographics
Designed visual layouts that make stats, processes, and trends highly digestible and shareable, either as a supplement to a white paper or as a stand-alone piece.
Newsletters
Quarterly or monthly publications delivered through digital or print formats that keep your firm top-of-mind with clients and prospects.

Press releases
Official company news releases that are crafted in a way that aligns with your broader public relations strategy and strikes the appropriate tone.
Case studies
Vignettes that turn your expertise and capabilities into tangible, real-life examples that capture the impact you are making for clients.
Private placement memorandums
Documents that articulate your investment thesis, describe market conditions, and capture your approach to capitalizing on opportunities.
Executive bios and profiles
Overviews of your team members' careers that validate their expertise, convey their experience, and tell their personal stories.
Social media and e-mail
Content that contextualizes your ideas in a tone and format that is tailored to the nuances of each digital platform and distribution channel.
Amplify Your Voice
Writing is only half the battle. Establishing yourself as a thought leader and maximizing your return on content requires using the right tools to amplify your voice and reach your target audience.
Media relations – We have relationships with many of the financial services industry's most trusted publications, including Pensions & Investments, Institutional Investor, The Wall Street Journal, and InvestmentNews.
Social media – By turning long-form content into engaging, bite-sized ideas, we help clients leverage LinkedIn and other social platforms.
Influencer marketing – Speaking at conferences is one of the most powerful ways to establish yourself as a thought leader. We know how to position your expertise in a way that aligns with what conference organizers are looking for.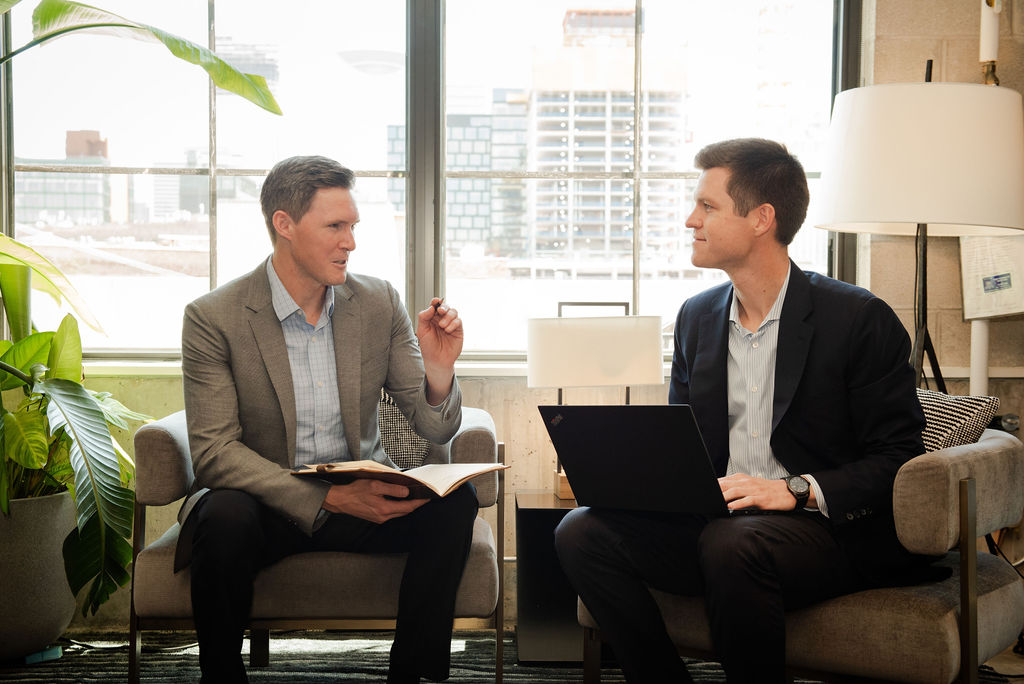 See for yourself
We know that talk is cheap. That's why we invite you to check out some of our work to see if our writing expertise aligns with your thought-leadership and content marketing goals.