Using Q&As to Streamline Your Financial Thought Leadership
It can be tough to keep your editorial calendar on track in a "normal" environment. Add a market crisis to the mix, and your thought leadership strategy can easily get derailed. It may be tempting to hit the "pause" button on your overall content marketing strategy in the midst of a crisis, but while you're sitting on the sidelines, your competitors are likely gaining ground.
It is paramount that financial marketing leaders find ways to operate more efficiently so they can continue to publish thought leadership while also focusing on crisis communications for clients and stakeholders. Question-and-answer articles (Q&As) can be a powerful tool to help you do this.
As financial writers, we are big advocates of Q&As. We think it is a very effective format, and we would like to see our clients use it more often to showcase their thought leadership. Consider this post to be our evangelizing on behalf of Q&As.
To show that we practice what we preach, we've formatted this post as a Q&A about Q&As with our CEO Scott Wentworth—how meta.
What are the main advantages of using the Q&A format for financial thought leadership?
There are several, but the biggest one is that it streamlines production and thus lowers your costs. Compared to a white paper or e-book, Q&A pieces are relatively easy to produce, so they should save the client time and money. This is because you spend less time thinking about structure, formatting, and design with a Q&A. Not only is the Q&A writing process more efficient on the front end, but the review process generally is quicker as well. Your SMEs will certainly want to check all of the quotes attributed to them, but a Q&A piece shouldn't require them to spend as much time crafting and refining details relative to other formats. In our experience, Q&As can be completed in about 20% to 40% of the time that an equally in-depth white paper would require.
Another advantage is that Q&As help to showcase your experts and humanize your firm. Q&As enable you to show the world just how smart and insightful your experts are. They also allow your audience to get to know the thinking of specific individuals or groups within your firm. The audience's ability to connect a face to a name is valuable – humans are more inclined to believe messages when they come from an individual rather than an emotionless entity. The format also encourages a more transparent and empathetic tone, which can be difficult to exude in your typical white papers and blog posts; this can be especially valuable during a crisis environment. To ensure you leverage the human element well, we encourage you to attribute answers to specific people rather than aggregating the subject matter experts' thoughts into a collective "corporate voice." Let the personalities of your individuals shine.
Finally, Q&As are reader-friendly. They are relatively easy to scan, read, and digest compared to other forms of thought leadership. Your audience is familiar with this format and can immediately orient themselves to the questions or topics that are most interesting to them.
Are there any drawbacks to using Q&As for financial thought leadership?
The Q&A format requires brevity and can limit depth of insights. Q&As generally are a great tool for covering several topics at a high level – sharing your experts' quick insights and perspectives. This makes it harder to dive deeper and share the level of technical detail that your firm may provide in other forms of thought leadership. For example, if you're designing a piece to target a very sophisticated institutional investor audience who values weighty, technical depth, it's probably best to look to other formats, such as a white paper or e-book.
Q&As can also make it more difficult to incorporate charts and other forms of data. During an interview, it's rare that an SME will talk in terms of precise numbers when answering a question. So it can be hard to add visual elements to the Q&A format without interrupting the natural flow of the piece. One potential solution is to include charts or graphics in sidebars or in the conclusion section of a Q&A piece, just be careful not to distract the reader too much.
What editorial guidelines should apply when writing a Q&A?
It's best to give your writer a long editorial leash. When preparing for a Q&A piece, you will build a list of questions to help guide your SME interviews and ensure the most important points are covered. But it's important to understand that the questions you develop for the interviewing phase don't need to be the same questions that show up in the final article. Like any SME interview, the conversation is likely to take on a life of its own. Allow the writer flexibility to craft new questions that better capture the flow of the conversation, if necessary.
In addition, although the answers in your final article will be attributable to an SME or group of SMEs, they don't need to be actual verbatim quotes. We strongly encourage you to allow your writer to organize the piece in the most impactful way possible, moving topics and quotes around to build the most compelling message. This will not be misleading to your audience; readers understand that you've organized the piece in the most impactful way and that the quotes used aren't direct, unaltered quotes.
Should the Q&A include photos of the subject-matter experts?
We strongly recommend including photos at the top of the article to identify the speakers. As we noted above, one of the key benefits of Q&As is that they allow you to humanize your team. Don't miss the opportunity to match a face with a name. Add photos and short bios (even just a couple of bullets is enough) of your SMEs, and the piece will resonate more.
How do Q&As translate to social media?
As with any form of financial thought leadership, we strongly encourage you to repurpose a Q&A piece for use on social media and other outlets. It's not shocking to learn that Q&As work particularly well for graphics with callout quotes on LinkedIn. Pick a few of the most salient quotes and use them on LinkedIn to help promote the Q&A with your followers. Go one step further by drafting social posts for your SMEs to make it easy for them to share the piece with their own LinkedIn followers. People like hearing from living, breathing people more than they do from a company!
—
Marketing leaders have a lot on their plates in any environment, but especially during a crisis. You have more work to do and more stakeholders clamoring for your time, so you need to work smarter. Pressing pause is not an option, but working more efficiently is. Q&A pieces can be particularly valuable in this situation. Not only are they relatively easy to produce, they also allow you to connect with your audience in a warm and empathetic way, which may be vital in challenging environments.
Our team at Wentworth Financial Communications is here to help you strategize on how to optimize thought leadership given your resources. We would be happy to help you think about whether a Q&A, white paper, e-book, video, or blog post makes the most sense for your next thought leadership campaign.
---
About the Author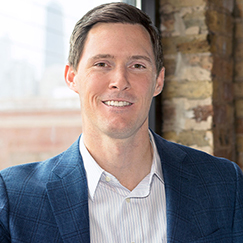 Scott Wentworth is the CEO at Wentworth Financial Communications. He collaborates with a team of writers and editors at Wentworth to help professionals across the financial services industry build their brands by creating investment-grade white papers, bylined articles, newsletters, blogs, social media posts, and other forms of content marketing.
Subscribe to our newsletter