Using Data to Drive Sales — IMEA All-Council Fall Summit: Data Council Highlights
Wentworth Financial Communications attended the 2022 IMEA All-Council Fall Summit in New York along with CMOs, distribution leaders, and other marketing and sales professionals from across the asset management industry.
We never miss a chance to attend Investment Management Education Alliance (IMEA) conferences to hear some of the top minds in the business share their firms' approach to marketing, product development, diversity, data analysis, and industry trends.
Here are some of the highlights and key takeaways from the Data Council's breakout sessions at the IMEA Fall Summit:
The Path to Digital Distribution—Defining Roles, Building Bridges & Making Data Actionable
The availability of data is almost endless, and asset managers' ability to interpret and act upon this data is crucial in developing marketing strategies and producing sales leads. The Data Council discussed how marketing and sales can align to capitalize on the data acquired through digital distribution.
Highlights:
Data collected from digital distribution gives marketing and sales teams insights into customer journeys and profiles and, when analyzed properly, qualified sales leads. Though marketing and sales teams sometimes have different priorities and KPIs, the common goal of identifying and capitalizing on qualified sales leads should influence how these teams "score" data to then develop go-to-market strategies and better sales enablement.
The concept of "sales" now extends beyond one team; the integration of marketing, sales, investments, and product is crucial in defining truly qualified leads versus one-click leads. Top of the funnel marketing data (website visits, email opens, targeted ad clicks, etc.) can be scored and delivered to sales, along with insights into specific products or resources investors may have expressed an interest in.
The COVID-19 pandemic not only accelerated digital distribution, but it changed the way retail investors research and buy products. Retail investors often conduct thorough research before even entering a manager's website; creating a sales enablement model that tracks and scores these customer journeys — and provides actionable insights to sales — is key to delivering a tailored sales experience.
The pandemic also highlighted the need to broaden the concept of territories beyond just geographical regions. Given that most sales models are now hybrid between digital and in-person conversations, asset managers should consider if digital sales territories can augment geographical territories.
Asset managers may see a greater adoption of desired sales behaviors and actions if sales trainings are conducted by members of the sales team. Marketing and technology can work with key members of sales to create the sales enablement model and then have these members in turn train the rest of the sales team, while showcasing their success stories.
Building a Mar-Tech Ecosystem
A successful mar-tech ecosystem combines and delivers on the objectives of marketing, sales, IT, and the executive suite. It often requires the integration of various software and systems and needs to be adaptable to deliver on the evolving needs of each business. The Data Council explored where to start in developing such an ecosystem and best practices by firms whose mar-tech ecosystems have been years in the making.
Highlights:
Building a mar-tech ecosystem requires a large investment of both time and resources but when built strategically it can align and deliver on various business needs. Asset managers must start with clear objectives, such as defining goals around data segmentation, data analysis, and prioritization, as well as the user experience for sales and marketing teams.
In creating a mar-tech ecosystem, asset managers may need a variety of software and systems to gather, store, and analyze data, though they must ensure that each system is integrated into a seamless end-user experience. Systems such as Salesforce, Eloqua, Snowflake, SalesPage, and Amazon Web Services (AWS) data lakes are used by some asset managers to achieve desired functionality. Diversifying the number and type of systems you use can also help manage software costs in the long term.
Asset managers need to create a model that is flexible and adaptable and that delivers useful actionable insights for sales and marketing. Data scoring is key in providing these teams with the best leads possible, and it may make sense to regionalize or evolve the scoring model over time as more data is analyzed.
Sales teams need to be confident in the data they are receiving — involving sales throughout the development of the ecosystem will help ensure that the output is implementable and actionable. Define phases for development and deliver in increments; it's crucial to find the quickest path to adding value (whether it's generating qualified leads or providing sales with more granular information to customize their sales conversations) and then enhance and refine over time.
In making the case for a mar-tech ecosystem to executive management, the costs must be viewed as a long-term investment. Though the operational costs (the cost of the software as well as the internal resources required to implement, operate, and maintain the software) are high, it's important to weigh them against the risks of not utilizing such an ecosystem.
Highlights provided in partnership with Investment Management Education Alliance (IMEA). Access more All-Council Fall Summit highlights here.
---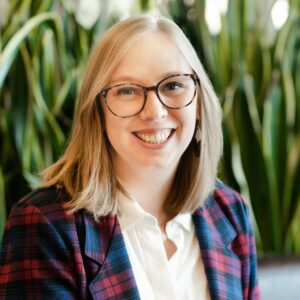 About the Author Katie Stout is Director, Operations and Content Strategy, at Wentworth Financial Communications. She collaborates with a team of writers and editors at Wentworth to help firms across the financial services industry build their brands and articulate their expertise by creating investment-grade white papers, bylined articles, newsletters, blogs, social media posts, and other forms of content marketing.
Subscribe to our newsletter