Welcome to WFC's New Website
When I founded Wentworth Financial Communications in February 2015, one of the very first things I did was hire a design firm to help me create a new website to tell the firm's story. At the time, I had a vision for what WFC's story would be, but it was just that—a vision.
So the original version of the website reflected the types of clients I thought we would be well-suited to serve, the kinds of services I imagined we would provide, and the type of team I believed we would need to deliver on our promise of investment-grade writing.
Over the past four years, I'm proud to say much of that vision has turned out to be accurate. The company is essentially a more mature version of what I had imagined.
But in some ways, the company has grown and evolved to a level that I didn't expect.
Industry expertise: We've focused on the verticals where we can add the most value (institutional asset management, private wealth management, investment banking and private equity, and professional services).
Client size: We've added several bulge-bracket firms as clients, in addition to the mid-sized and boutique firms we have worked with from the start.
Team: Frank Kalman joined WFC in 2018 to head our operations and marketing, and we've built a talented team of writers and editors, who each specialize in specific aspects of financial services writing.
Topics: Having writers with expertise in narrow topics—even as specific as ERISA, private credit markets, non-qualified stock options, and asset servicing—is something that is very important to our clients.
Interactive content: We still spend much of our time writing white papers, blogs, quarterly investor letters, and other traditional forms of thought leadership. But our clients increasingly look to us to develop content for interactive, multimedia formats such as e-books, microsites, videos, and motion graphics.
As these aspects of the business have come into focus, we realized that we needed to update our website to reflect who we are today, the types of clients we serve, and how we help them convert their ideas into investment-grade thought leadership.
Over the past nine months, we've been hard at work building the site. (Like building a house, creating a new website always takes longer than you expect, I've been told.) We launched the site in June, and we hope you take some time to check it out.
Some of the new features we're most excited about include:
Anyone who has created a website knows how much work goes into it. This project was a team effort in every sense.
On the WFC side, I want to thank Frank for managing the project from start to finish as well as Darby Scholl and Ryan Sachetta for bringing their ideas and perspective. Externally, I want to thank Tim McCoy, Tess Skilling, and the entire web development and design team at Brands That Speak for their technical expertise and ability to convert our ideas into a robust, user-friendly website. Also, video guru Jeremiah Cox and motion design extraordinaire Kyle Hamrick deserve major kudos for collaborating to create videos that bring our story to life.
As you explore the site, I hope the energy, passion, and commitment our team put into creating it is evident. Our goal was to create a site that is a more useful resource for you as a financial marketer.
To all of our clients, team members, and friends, thank you for the support you provided throughout the first chapter of WFC's story. And thank you for being here as we start our next chapter.
Sincerely,
Scott Wentworth 
---
About the Author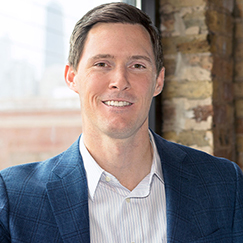 Scott Wentworth is the founder and head financial writer at Wentworth Financial Communications. Scott and the team of writers and editors at WFC help professionals across the financial services industry build their brands by creating investment-grade white papers, bylined articles, newsletters, blogs, social media posts, and other forms of content marketing.
Subscribe to our newsletter