Making Your Marketing Budget Go Further in a Downturn
Opinions vary about how long or how deep the current recession will be. But most business leaders agree that conserving cash during a downturn is paramount.
Whenever companies look to tighten their belts, marketing is often viewed as one of the first places to cut costs. This is true across industries, but especially in financial services and other B2B sectors. Regardless of whether they think this is a smart approach, marketers at many companies are preparing to manage tighter budgets over the next fiscal year.
At the same time, however, many asset management, investment banking, and consulting firms realize that a downturn is a tremendous opportunity to gain market share and accentuate your advantages over weaker, less stable competitors. This dynamic played out in spades during the financial crisis of 2007-2008, and I expect it to occur again in this recession.
So how can marketing leaders take advantage of this rare opportunity to gain market share while operating with fewer resources? We present some tips and strategies that can help financial services firms make their marketing budgets go further during a downturn. By thinking creatively, financial services marketing leaders can operate more efficiently and keep the marketing engine pumping even when budgets are tight.
Get More Mileage From Virtual Events
Webinars and virtual events have gained even greater importance during the COVID-19 crisis, as in-person conferences and meetings are on the deep freeze. Webinars require a significant amount of effort to organize and manage. But once the event has taken place, don't just move on to the next project.
Virtual events are full of useful information that can be turned into rich content marketing relatively easily. Armed with a webinar recording, transcript, and the presenters' slides, a talented writer can easily turn these ingredients into valuable content marketing, such as short articles, social media posts, blogs, landing pages, and bylined articles. Be sure to extract as much value as you can from all of the hard work that webinars and virtual events require.
Transform Non-Marketing Content Into Marketing Content
Your firm is regularly producing a wealth of "non-marketing" content that could easily be turned into marketing content for external audiences. Asset managers, investment banks, and consulting firms often don't realize how easy it is to transform existing internal documents—including decks created for client pitches, notes from investment committee meetings, and other internal meetings—into white papers, e-books, or blog posts.
Importantly, this process can be much more affordable than starting a writing-intensive project from scratch. After gathering transcripts, notes, and slides from the internal content, the marketing team can provide guidance on what to emphasize to align with the go-to-market strategy. A strong writer will be able to re-frame this content to fit the needs of an external audience and align with the larger marketing strategy.
Limit the Number of Cooks in the Kitchen
The more team members you include on a thought-leadership project, the more effort (and therefore expense) will be required. Occasionally there are internal reasons to involve a greater number of people, such as compliance requirements and internal politics. But usually adding more people to the review process is a clear example of diminishing marginal returns. Adding layers of review and edits will cause both your timeline and costs—not to mention your stress level—to expand. And more often than not, adding more cooks to the kitchen ends up hurting the quality of the overall product by diluting the story.
A tough environment presents an opportunity to limit the number of people involved in your marketing projects. You can justify the leaner team by citing budget constraints. Try staffing a project with just a few key people—for example, assign one marketing team leader and one investment team leader and let them run. You may be surprised at the quality of content you are able to produce with fewer bumps along the way.
Produce "Skinny" Versions of Your Content
A simple way to generate content more efficiently and affordably is to focus on shorter pieces that are easier to produce. Try putting hard limits on your content during a downturn. For example, institute a rule that you will only publish pieces that are a maximum of two pages in length. In addition to being easier to produce, shorter pieces are also easier for your audience to digest. This is particularly important during a market crisis, when your audience has less time to spend reading your content.
When it comes to the variables that affect pricing, length is one of several levers you can pull. Another potential lever is to re-think the end product from a design standpoint. By committing to only producing HTML-based content instead of highly produced print versions, for example, you can stretch your marketing dollars further. For more context on the key variables that affect pricing for financial services thought leadership, see our recent post: "Thought Leadership Pricing, Part 2: Variables That Influence Cost".
Develop a Repeatable Format—and Stick to It
One effective way to limit the expense of generating new marketing content—both in terms of time and money—is to avoid starting every project from scratch. In addition to re-purposing existing content, we advise clients to develop repeatable formats and processes for thought leadership projects and to stick to a regular cadence for publishing such pieces. By building a process and format that is easy to replicate, the team involved in these pieces will get more efficient with each subsequent piece, resulting in less time required for internal and external resources.
…
As a financial marketing leader, your goal during a market crisis or downturn is not just to survive, but to gain market share and build momentum. But clearly you must re-think the typical ways of generating content so you can optimize resources in a challenging environment. Re-purposing content, developing repeatable formats, slimming down your pieces, and limiting the number of people involved in each project can help you operate more efficiently—and continue to build momentum.
If you would like to chat about your own strategy for making the most of a challenging environment, please contact us.
---
About the Author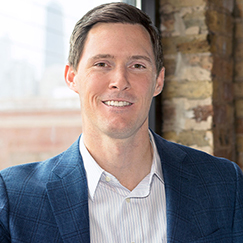 Scott Wentworth is the CEO at Wentworth Financial Communications. He collaborates with a team of writers and editors at Wentworth to help professionals across the financial services industry build their brands by creating investment-grade white papers, bylined articles, newsletters, blogs, social media posts, and other forms of content marketing.
Subscribe to our newsletter