Earlier this year, Wentworth Financial Communications celebrated its third birthday. My wife and son helped me mark the milestone with some cupcakes.
Besides enjoying the cupcakes, I also took the time to reflect on how far WFC has come.
The past three years have been an absolute blast. The team here at WFC has worked with some amazing clients throughout the financial services industry—from bulge-bracket asset management firms to start-up, boutique managers in highly specialized asset classes. Most of WFC's projects have involved white papers and articles, but we've also worked on some highly creative branding, advertising, and video projects. (The next time you see me, remind me to tell you about the video script that I wrote for a turkey technology company—It's a true story; I swear.)
One of the most common questions that I've received since leaving my job at William Blair in early 2015 to launch WFC is: Why did you start your own firm? Most people assume it's some combination of the following three factors:
You saw a promising market opportunity
You always wanted to be an entrepreneur
You hated your job
No. 1 is absolutely true. I realized that content marketing was becoming a bigger part of how financial services companies were showcasing their expertise and building their brands. I also realized that companies were having a hard time finding talented writers who not only understood the technical aspects of banking or asset management but also knew how to write about such topics in a way that aligned with the firm's larger marketing goals. Writing is often the "bottleneck" when it comes to a firm's content marketing efforts, and as a client once told me, "It's smart to invest in the bottlenecks along the supply chain." So that's what I did.
No. 2 is partly true. I grew up on a corn and soybean farm in Central Illinois. My dad farmed with his dad and brother. Farmers are small-business owners in every sense, and I had a front-row seat for how rewarding—and challenging—being your own boss can be. Despite this, while I was growing up and even throughout the early stages of my career, I never had a burning desire to start my own company. There are a lot of "natural born entrepreneurs." I'm not one of them. I wasn't against starting a company, but it also wasn't something that I had always dreamed of doing. I guess I would call myself "opportunistically entrepreneurial," and opportunity knocked.
No. 3 couldn't be further from the truth. Let me be clear: I loved my job at William Blair and the people I worked with there, and that's a huge reason why I didn't start my company sooner. For those of you who don't know, William Blair is an investment banking and asset management firm based in Chicago. I'm biased, but I believe that it's the premier independent firm in the industry. As the head writer in William Blair's centralized marketing department, I worked alongside very smart, talented people, not only in my department but across all of the firm's business lines. One day I'd be writing a white paper for the firm's private wealth management group; the next day I'd be writing a press release for the firm's sales and trading unit. Then, later in the week I'd be interviewing portfolio managers from the institutional asset management team and helping the investment bankers with an article about M&A trends.
I joined William Blair as an intern in 2004 while I was earning my master's in journalism from Northwestern University—and I stayed there for 11 years. It's the only "real job" I had after grad school. As much as I loved working there, the opportunity to start my company was too compelling, and after thinking about it for several years, I made the leap.
But what's the real reason you started WFC?
Yes, I definitely was motivated by the market opportunity. And, to a lesser degree, the idea of starting a company was appealing on several levels—while also being scary on just as many levels.
But, ultimately, the market opportunity and the appeal of being my own boss weren't what drove me to start WFC. Those things were necessary, to be sure, but they weren't what fueled my passion and motivation.
The real reason that I started WFC is because I love explaining things. I don't know what that says about my personality, but I get a lot of satisfaction when I'm able to help someone grasp a complicated topic. There's nothing more gratifying than when a client reviews a draft of something we wrote and tells us, "Yes! You captured it perfectly. That's exactly what I was trying to convey."
Conversely, it drives me crazy when things aren't explained properly. It makes my skin crawl when I hear someone fumble their way through trying to tell a story or explain an idea. That feeling you get when someone drags their fingernails across a chalkboard—that's how I feel when people leave out important details or spend too much time on concepts that distract from the main point.
I'm also proud of the fact that, in its own small way, the work we do at WFC helps the economy function a little more smoothly. I believe that when investors and consumers make well-informed decisions, capital gets allocated more efficiently and ends up in the hands of people who are best able to turn that money into valuable services and products that benefit society. I like to think that the white papers, articles, and blogs that we write play a role in helping people make better decisions.
One of the biggest thrills for me over these past three years has been getting to work with so many talented, dedicated people whom I'm lucky to call friends—this includes WFC's clients as well as our team of writers, editors, and designers. When I ventured out on my own and started the company, I worried that it might be a lonely endeavor. But these relationships have made the journey more rewarding than I ever imagined.
I consider myself to be very blessed that I have a job where I get to help people explain ideas that mean so much to them. On behalf of the whole team at WFC, we're honored that our clients trust us to help them with this important task. And we're excited by the challenge of getting better at it in the years to come.
---
About the Author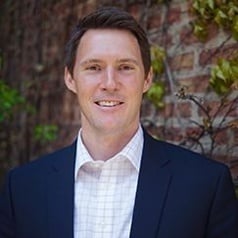 Scott Wentworth is the founder and head financial writer at Wentworth Financial Communications. Another reason why Scott loves running WFC is that, as CEO, he gets to set the dress code. Since Scott left his corporate job, the Wentworth family's dry-cleaning bills have gone down significantly.