While many investment professionals might view writing quarterly letters as an unimportant chore, the fact remains that these letters are a powerful way to strengthen client relationships and showcase a firm's portfolio management expertise. Still, putting together an engaging quarterly letter isn't simple. As the head writer at Wentworth Financial Communications, I've seen many good–and many bad–investor letters over the years.
On January 30, I spoke to a group of about 100 members of the CFA Society Chicago at the Standard Club about the nuances of putting together effective quarterly letters. At a high level, there are three important concepts that I think go a long way toward improving quarterly letters.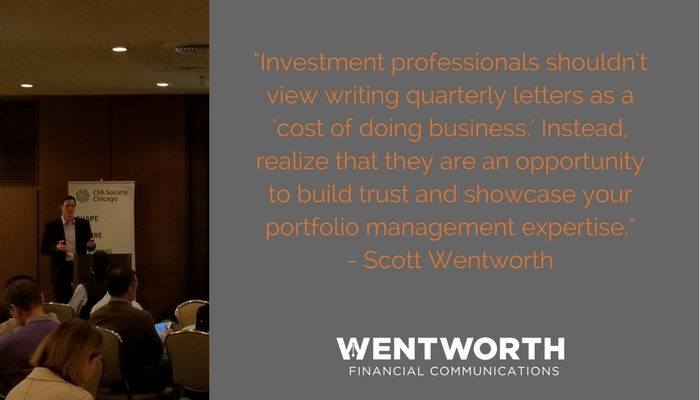 Tell a compelling story

: Quarterly letters are great for informing clients about a fund's progress or showcasing your expertise as a portfolio manager, but it's important to keep readers engaged by using a structure that is both compelling and informative. Don't just dump a bunch of stats about portfolio performance on the readers; provide context for those numbers and explain why they are significant.

Make it easy to consume visually

: Even the most sophisticated investment thesis will ring hollow with readers if it's presented as large blocks of dense text on a screen. This is especially important as more and more readers are consuming letters on smartphones or other mobile devices. Writing strong quarterly letters isn't just about stringing together sentences or having a great story structure (though these are important). It's about how the text of the story is organized visually for the reader through use of subheads, bullet points, charts, or graphs.

Streamline your process:

Many investment professionals are intimidated by the idea of having to write anything, let alone a letter detailing their thought process and investment thesis. Nevertheless, breaking the process down into simple, easy-to-understand steps makes the act of writing quarterly letters much more manageable. Instead of feeling overwhelmed at the prospect of writing a long quarterly letter, breaking down the component parts into smaller steps makes the task feel much more doable for those to whom writing may not come easy. For example, instead of diving right in to writing a draft of the letter, starting first with a detailed outline makes the actual writing part feel much easier.
In the next blog post, I'll cover in greater detail the importance of using five rules to help you tackle the first concept mentioned above: telling a compelling story. They are:
Don't bury the lead

Use transition sentences

Overcome the "curse of knowledge"

Provide context for numbers

Embrace uncertainty
Until then, click here to receive the complete e-book on how investment professionals can improve their quarterly letters.
---
About the Author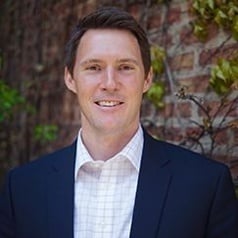 Scott Wentworth is the founder and head financial writer at Wentworth Financial Communications. Scott and the team of writers and editors at WFC help professionals across the financial services industry build their brands by creating investment-grade white papers, bylined articles, newsletters, blogs, social media posts, and other forms of content marketing.