Wentworth Financial Communications now has a West Coast headquarters!
Well, sort of.
Frank Kalman, WFC's chief operations officer, moved to Pasadena, California, just north of Los Angeles, along with his wife, Kelly, on June 20.
Kelly, a child psychologist with a Ph.D. from Northwestern University, recently started a new job as a user research specialist with an educational technology company in nearby Glendale that makes apps for kids, and Frank figured that—despite his deep Chicago roots and love of deep dish pizza—he probably should go along with her.
The good news is that, although we'll miss Frank being in WFC's Chicago headquarters every day, the digital nature of our business means he can still do his job from the West Coast. In fact, I'm told that Frank's new apartment features a sleek loft office space that will effectively become WFC's new West Coast outpost, allowing him easy access to prospective clients in Los Angeles, San Diego, San Francisco, and—hopefully someday—Honolulu, among other cities in the region.
Here are 10 reasons to be excited about Frank's western migration.
Don't worry, East Coast clients. Frank is an early riser, so 9 a.m. ET, or 6 a.m. PT, conference calls will be no problem.
With the exception of his four undergraduate years at Indiana University, this will be the first time Frank will be living outside of Illinois, which means he'll finally get proof that the sun does exist during January and February. (Who am I kidding? I should throw March and April in there, too.)
I'm told that California has healthier food offerings than Chicago, so no more pizza hangovers to weigh on Frank during the workday. I'm sure he'll only be consuming cold-pressed kale and ginger juice pints and lentil burgers, providing him extra energy to work extra-long workdays from the loft office.
The low-stress, "California cool" vibe of Pasadena should help Frank stay extra focused and calm as he proofreads all WFC client work to ensure that it is up to snuff.
As you may or may not know, Pasadena is the home of college football's Rose Bowl game and parade, which takes place each year on January 1. Frank has already agreed that any client going to the game or parade can crash on the couch in his loft office—at least, as soon as he buys one.
As part of the move, Frank and Kelly had to buy a car—a first for the couple, since it's so easy to live in Chicago without one. I'm also told that Frank successfully passed his California driver's test. This means we can use Frank's driver's license photo as his head shot for WFC's new website.
Since Frank is not too far from Hollywood, I figure it's only a matter of time before WFC is able to add "screenwriting" to its list of writing capabilities. After all, everyone in L.A. is working on their own movie script on the side, right?
When we tell clients that we'll "have a draft ready by the end of the day," we now have two extra hours to get it done. (Just kidding!)
If WFC ever has a client who wants to write a white paper about default risk in municipal bond markets, we have on-the-ground correspondents in each of the two most fiscally troubled states.
Even though he'll be 2,000 miles away, we're still glad to have Frank as part of the WFC team, and we hope he comes and visits the Chicago office as many times throughout the year as possible—especially in January, when he gets homesick for constantly gray skies.
All joking aside, I'm very excited for Frank and Kelly and this exciting chapter of their lives. I think it's a great move for them professionally and personally. If you know of any SoCal financial services companies that Frank should connect with—or any L.A.-area restaurants he should check out—send Frank a quick note at frank@wentworthwriting.com or @FaKalman.
---
About the Author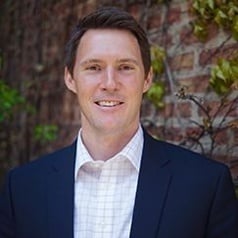 Scott Wentworth is the founder and head financial writer at Wentworth Financial Communications. Although Scott would never leave WFC, now that the managerial job of his favorite baseball team, the St. Louis Cardinals, is available, Scott wants it to be publicly known that he would be willing to take up the job on a part-time basis.