A version of this post was originally published in December 2016; it was also republished in 2017 and has been updated yet again to reflect the economic and political developments of the past year.
The holiday season and the end of the year provide a great opportunity for financial services firms to reach out to clients. Writing a letter that provides valuable insight and strikes the right emotional tone, however, is easier said than done.
Believe it or not, A Christmas Carol, Charles Dickens's classic tale about Ebenezer Scrooge and Tiny Tim, provides some powerful lessons that financial professionals can use to write a classic year-end client letter.
Here are five Dickens-inspired tips to keep in mind as you sit down to write this year's letter:
The Ghost of Christmas Past — Recap the biggest trends that affected your clients: The first of the three spirits to visit Scrooge is the Ghost of Christmas Past. The ghost takes Scrooge to revisit scenes from Scrooge's boyhood and young adulthood.
When you are thinking about what to include in your year-end letter, looking back on the past 12 months is a good place to start. Use the opportunity to recap the biggest economic, political, and market-related trends of 2018 and explain how they created risks and opportunities for your clients. Doing so will remind your clients of how the market environment is constantly evolving and show that you are monitoring these changes on their behalf.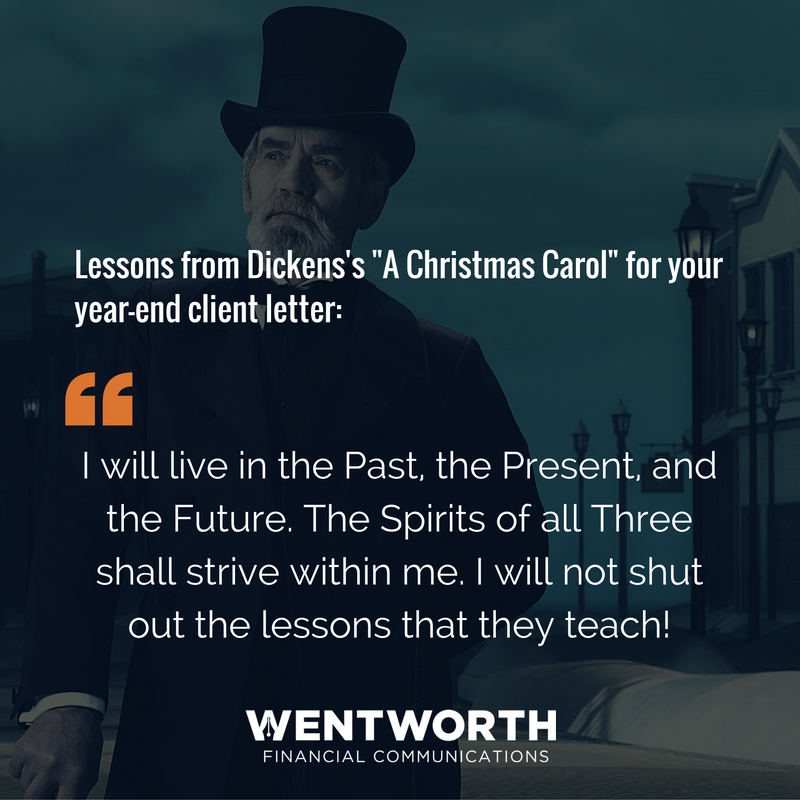 The Ghost of Christmas Present — Remind clients of upcoming year-end deadlines: The second spirit to visit Scrooge is the Ghost of Christmas Present. That ghost takes Scrooge to observe joyful Christmas celebrations going on around London.

While it might seem obvious to focus on the past in your year-end letter, don't forget about the present. The letter can be a great opportunity to remind clients about decisions they can make or strategies they can employ in December 2018 to capitalize on near-term opportunities or to strengthen their financial position heading into 2019. This is especially true in the private wealth management and accounting industries. A list of year-end tax or portfolio management strategies and reminders about December 31 tax deadlines can be a good way to show that you are proactively looking for ways to add value for clients.
The Ghost Of Christmas Yet To Come — Identifying the biggest stories to watch in 2019: The third spirit to visit Scrooge is the Ghost Of Christmas Yet To Come. This ghost takes Scrooge to watch the funerals of Scrooge himself and of Tiny Tim. Upon seeing the vastly different ways that people react to Scrooge's death and Tiny Tim's death, Scrooge promises to the ghost that he will change his ways.

In addition to being reflective, your client letter should be forward-looking and identify the things that clients should focus on in the new year. With new tax and regulatory reforms in place, the bull market well into its 10th year, and the Fed's ongoing rate rising, there are many developing stories that could have a major impact on your clients' industries, as well as their personal investment and estate planning strategies.
"Bah! Humbug!" — Don't just focus on your accomplishments: Over the course of the story, the once-miserly Scrooge learns the importance of putting the needs of others before his own business interests. After his experiences with the three spirits, he is a changed man. He gives the Cratchit family a turkey, treats Tiny Tim like a son, and is compassionate to everyone he meets.

When it comes to writing their year-end client letters, most financial professionals would do well to focus on others as well. Rather than using the letter as an opportunity to list all of the awards you won, employees you hired, or growth milestones you reached in 2018, you should focus on what these things mean for your clients. For example, rather than bragging about how your firm surpassed $30 billion in assets under management, talk about how this AUM figure reflects your ability to help clients navigate 2018's uncertainty and strengthen their portfolios. Rather than just listing stats about the number of new employees that you've added, talk about how these people will enhance your ability to deliver great results for clients.
"God bless us—every one" — Don't be afraid to show some emotion: At the Cratchit family Christmas dinner, Tiny Tim offers this as a blessing. The narrator repeats this blessing at the end of the story, reflecting Scrooge's new mindset.

While emotional writing generally isn't appropriate for client communications in the financial services industry, it is more than acceptable to use a tone that reflects the spirit of the holiday season in your year-end letter. Take this opportunity to thank your clients for the loyalty they have shown you this year and tell them how much you appreciate the relationships you have with each of them.  
You don't have to be a master writer like Charles Dickens to put together an informative, heartfelt year-end letter to clients this December. Just remember what Scrooge told the Ghost Of Christmas Yet To Come when pledging to change his ways: "I will live in the Past, the Present, and the Future. The Spirits of all Three shall strive within me. I will not shut out the lessons that they teach!"
---
About the Author

Scott Wentworth is the founder and head writer of Wentworth Financial Communications. He and the team of writers at WFC have helped companies across the financial services industry with their year-end client letters. Having grown up watching Disney movies, Scott was envisioning Scrooge McDuck the entire time he was writing this blog post.