Since I became a father four years ago, the most common advice I have heard from other parents is: "Enjoy these moments. Kids grow up so fast."
And it is true. Now that my son has celebrated his fourth birthday, it seems like he has gone from being an infant to a "big kid" in a blink. But I wouldn't say that the same is true for Wentworth Financial Communications, which celebrated its fifth birthday on February 2, 2020.
Don't get me wrong. Building WFC these past five years has been a blast. It is the most rewarding, the most challenging, and the most fulfilling thing I could have done professionally. But it doesn't feel like it has gone so quickly. It has been a grind, and it feels like each week presents a unique set of problems to solve, both for our clients and ourselves.
Celebrating WFC's fifth birthday in early February caused me to do some reflecting about the journey. Mostly, I thought about all of the people who have helped me along the way. So, I wanted to use this occasion to give you a "by the numbers" look at the people and places I am most grateful for as CEO of Wentworth Financial Communications.
Five: Schools where teachers taught me how to write and do math
I am blessed to have gone to great schools throughout my life. But more importantly, I have had teachers every step of the way who invested in me and my classmates. There are too many teachers and lessons to name them all. But here are a few:
In grade school, my third-grade teacher taught me that turning in a half-baked report on Charles Lindbergh's life as a pilot wasn't acceptable, and my sixth-grade teacher taught me that five paragraphs is all you need to write a compelling essay.
In junior high, my English teacher tediously drilled into us the value of diagramming sentences. I didn't understand the value of it then, but I certainly do now.
In high school, my English teachers taught me that classics such as A Tale of Two Cities and A Separate Peace have valuable lessons about humanity and narrative arcs, and my math teachers taught me that if you don't know how to do algebra or basic calculus, you are going to have a hard time solving problems in real life.
In college at the University of Illinois, my Economics 101 professor opened my eyes to a new way of thinking that brings structure to how people make decisions.
At Northwestern University's Medill School of Journalism, I learned that the most important part of writing is to not bury the lead. (Or, as some journalism wonks like to insist, "lede.")
Four: Special people who encouraged me to follow my dream
My parents have instilled in me more valuable lessons about the value of hard work and treating people with respect than I can count. Thank you for modeling that behavior and for always believing in me.
My sister is an amazing person, and she has always supported her little brother in every way possible.
My extended family has been universally supportive, but I have two uncles who have been particularly encouraging. One is a farmer and one has founded two consulting businesses, and they both have shared invaluable lessons about running a business and managing people.
My best friend heard me talk about launching WFC for years and he kept pressing me to pull the trigger; I am so glad that he encouraged me to get outside of my comfort zone.
Even though I am beyond my quota of four, I have to mention all of my friends at William Blair, the investment banking and asset management firm where I spent the first 11 years of my career. That is where I learned pretty much everything I know about marketing and financial services. I couldn't have picked a better place to start my career or a better group of people to learn from.
Three: Colleagues who have helped build WFC's operations
In the financial writing business, being good at writing is just half the battle. You also have to excel at project management and all of the behind-the-scenes things that go into running a business. Three people have focused on helping me build WFC's operations since I launched the business, and all three have brought unique skills and ideas to the company.
Marci Jarog taught me how to apply a management consultant's rigor to defining and documenting processes.
Frank Kalman taught me the value of authenticity when connecting with an audience, as well as the importance of not letting perfect be the enemy of good when it comes to trying new things.
And now Connor Martin is opening my eyes to how WFC's writing and thought-leadership services can be valuable for private equity and other verticals that I hadn't fully explored.
In addition to these three people, there are countless other writers, designers, and marketers who have poured their talent and energy into delivering investment-grade results for our clients.
Two: Kids who have put up with Dad's long hours
Building a company takes a lot of time and energy. So does raising a family. Unfortunately, there have been times when I missed out on events like my son's Valentine's Day preschool class party or my daughter's doctor visits. But fortunately I have done a reasonably good job of putting parameters around my work schedule to ensure that I get lots of quality time with the kids in the evenings and on the weekends. My son does a good job of reminding me, "Daddy, you shouldn't work so long at the office, so you can play with me more." The best part of my day—and I am sure that most parents would agree—is when I get home and my kids run to tackle me and instantly drag me into whatever game they are playing or whatever part of the house they are destroying.
One: Wife who has supported me every step of the way
Nothing the company has accomplished would have been possible without the support of my amazing wife, Natalie. We got married about a year before I launched the company, and I am not sure she fully appreciated what it would be like to live through building a company while raising a family. But she has been incredibly supportive and encouraging every day, even while building a very successful, demanding career of her own in financial services.
Running a business can feel like riding a roller coaster, and I cannot stress enough how important it is to come home every day to someone whose love and appreciation never wavers. To any of WFC's clients or team members, if you ever meet Natalie, please tell her "thank you" because nothing WFC does would be possible without her.
Zero: Years the company would have survived without the support of our clients
I know that the headline says this list has only five items. But I would be egregiously remiss if I didn't thank WFC's clients. Obviously, clients are the lifeblood of any business from a financial perspective. But what I appreciate most is the trust that our clients have placed in us. Hiring a ghostwriter to create thought leadership on your behalf can be a scary process. And it is an intimate relationship. For our clients, their ideas are their most valuable assets, and they are trusting us to articulate those ideas in ways that capture the expertise they have spent their entire careers cultivating. In addition to this trust, I am grateful for the relationships I have built with our clients. It isn't easy to manage an outside vendor; writing is a subjective process, so giving and receiving feedback can be difficult. Our clients, however, have been a pleasure to work with, and they treat us as partners.
I hope the next five years of WFC's growth are as fulfilling as the first five years have been. I am confident that they will be because of all the people mentioned above—as well as all the people whom I didn't have space to include in this blog post. In 2025, when we celebrate our 10th birthday, I will enjoy having five extra spaces to list more people. I know I will need it!
---
About the Author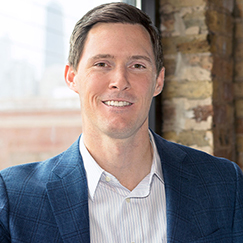 Scott Wentworth is the founder and head financial writer at Wentworth Financial Communications. Scott and the team of writers and editors at WFC help professionals across the financial services industry build their brands by creating investment-grade white papers, bylined articles, newsletters, blogs, social media posts, and other forms of content marketing.