Note from Wentworth Financial Communications CEO Scott Wentworth: In October, I was thrilled to announce that Connor Martin joined the team as our new chief operations officer and managing editor. In this month's newsletter, I explain why I think he is an amazing addition to the team. Now, I would like to give Connor a chance to tell his side of the story in this blog post. If you haven't had a chance to interact with Connor yet, please drop him a line at connor@wentworthwriting.com or connect with him on LinkedIn. I know you will love getting to know him and working with him!
—
Greetings! I am thrilled to have joined Scott's team and already feel at home at Wentworth Financial Communications.
When taking a moment to reflect on why I joined WFC, four themes stood out in my mind: 1) my passion for investment-grade, institutional-quality writing; 2) my conviction in the growing need for this type of work across the financial services industry; 3) my belief in Scott; and 4) the opportunity to grow an outstanding business into something even greater.
My Passion for Investment-Grade, Institutional-Quality Writing
I have a passion for writing. I guess I have been "wired that way" from a young age. My love of finance came a bit later in life, of course.
I developed my interest in financial services throughout my college years. My summer internship at CastleArk Management, a hedge fund in Chicago, was a particularly formative time. That internship provided me with a crash course in investment strategy, portfolio and risk management, and client service. I am forever grateful to the team at CastleArk, especially founder Jerry Castellini, for opening my eyes to the intellectual rigor and professionalism that define institutional-quality investment management.
Following my summer at CastleArk, I knew I wanted to work in investment management. When Grosvenor Capital Management came to Notre Dame to recruit candidates for its three-year analyst program, I was immediately interested. I earned a role in Grosvenor's Client Group, the marketing, business development, and client service hub for the firm's $20 billion hedge fund (and later private markets) business.
Grosvenor's client group was a great fit for my passion for writing and communicating. I began the role in July 2008, in the heart of the financial crisis, which in hindsight was a fortunate time to begin a career in this field. There is no more important time for strong and consistent communication with investors than when times are tough.
At Grosvenor, I excelled in the creation of marketing collateral and client communications—presentations, two-pagers, client letters, proposals, white papers, website content, private placement memos, RFP responses, due diligence questionnaires, etc. In 2013, the firm acquired its private markets business, broadening my range of subject matter expertise. By the time I left Grosvenor for business school at the University of Chicago in 2016, I had touched nearly every strategy and asset class in the alternative investment space, from long/short equity to trading-oriented macro strategies to large-cap buyout private equity to infrastructure to venture capital to private credit… you name it. It was an incredible place to "grow up."
What I love most about working in the marketing side of investment management is the intellectual stimulation afforded by such work. You are constantly forced to stretch your brain and learn new things—whether that is a strategy you haven't worked with before, a new fund structure in the market, or a trade example that is deeply technical and nuanced. It's an incredibly stimulating line of work and I feel fortunate to have (mostly) lucked into it in life.
My Conviction in the Growing Need for this Work
Institutional-quality thought leadership is a seriously undervalued asset in financial services, and I am dedicating myself to proving out that hypothesis as a member of the WFC team.
In the financial services industry, websites, pitch books, brochures, and other materials seek to tell a company's story in unique ways. They discuss a firm's approach, processes, culture, values, technology, and other defining features. But it is so difficult to successfully differentiate one firm from the next, and often you see the same buzzwords or defining principles from many firms in the same space.
This isn't a criticism of the companies themselves—in most cases, they have unique characteristics and identities that differentiate them from their competitors. But it is difficult to build marketing materials and thought leadership that convey this. And that is where people like Scott and our team of writers and editors can have an immediate and considerable impact.
Say you are an alternative investment manager who has thoughtfully developed an ESG investment process. How do you message that approach to the marketplace without sounding like every other investment group trying to win an investment from a socially-minded endowment, foundation, or family office?
Or perhaps your private equity firm is seeking to bolster its ability to source proprietary deals by connecting directly with business owners in a particular industry. Perhaps those owners are wary of private equity, as they have heard of PE groups talking the talk during the courtship phase only to fail at following through on their promises. Your firm is different—you have years of experience doing right by founders, you structure deals thoughtfully and transparently, and you manage companies in a collaborative way. But everyone else in your space says they do, too. How do you substantiate your message in the marketplace?
Thought leadership is an extremely powerful tool in situations like these. When employed strategically and at a high level of quality and professionalism, thought leadership reveals the true identity of a company, brings substance to the otherwise vacuous buzzwords, and reaches your intended audience in a way that resonates.
Effective thought leadership could very well be the thing that pushes you toward the top of the list in the eyes of an investor, client, or potential partner.
My Belief in Our Founder, Scott
Scott has a unique combination of intellectual capacity, writing ability, people skills, and wit that make him absolutely ideal for his profession. His ability to lead interviews with subject matter experts is exceptional—he knows how to drive key thoughts and insights out of people's brains, as well as how to focus the conversation on the points that resonate most with a client's intended audience. This is more of an art than a science, and Scott is truly gifted in this capacity.
To me, this is the crux of WFC's value proposition to our clients. We are hired to fill a void, and the void often lies in a company's ability to capture the brainpower and vast experience of its thought leaders and to make it manifest through written forms of communication. Scott is exceptional at this craft. To be able to build a company around such a leader and to develop my own skill-set with his guidance is an incredibly attractive opportunity.
But in addition to all of these characteristics that make Scott such a great leader for our business, he is also a downright good person. Knowing that I have a boss and business partner who will support my own goals to be an exceptional father and great all-around person makes a huge difference in my day-to-day enjoyment of my profession.
The Opportunity to Build an Outstanding Business
Since leaving William Blair & Company to start his own business almost five years ago, Scott has built an incredible company. Before I joined WFC, my sense was that Scott's client list, writers, and work product were exceptional. I have been pleasantly surprised to find all of these aspects to be even better than I could have anticipated.
Scott and I both are certain that there is a ton of room for continued growth at WFC. But to do so, we need to continue building and refining our operational structure and processes to support that growth. We need to recruit and develop the best writers. We need to build new business and deepen our existing client relationships. We need to do the "glamorous" stuff involved in running a small business such as negotiating vendor contracts, fixing any IT issues that arise, and closing the books. And we need to scale without sacrificing our focus on providing the highest quality investment-grade content marketing and thought leadership available in the market.
I love that this role provides me the opportunity to have a direct impact on growing a great business every single day.
—
Thank you for your continued support of WFC. I look forward to working with you all. Please feel free to reach out to me at connor@wentworthwriting.com to say hello at any time. Thanks for joining us on our journey!
---
About the Author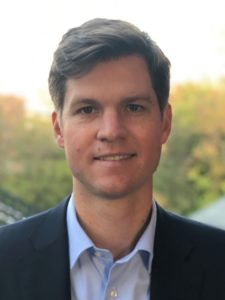 Connor Martin serves as chief operations officer and managing editor at Wentworth Financial Communications. Connor, Scott, and their team of writers and editors at WFC help professionals across the financial services industry build their brands by creating investment-grade white papers, bylined articles, newsletters, blogs, social media posts, and other forms of content marketing.