I was born in 1979, two years after The Mary Tyler Moore Show went off the air. So I didn't get to experience first-hand the impact that the landmark sitcom had on the entertainment industry and, more importantly, on attitudes about single, career-focused women and the workplace. But whenever I heard my Baby Boomer colleagues and media commentators talk about Ms. Moore and the show, they did so with a tone that made it clear that The Mary Tyler Moore Show was more than just a brilliantly written and acted sitcom.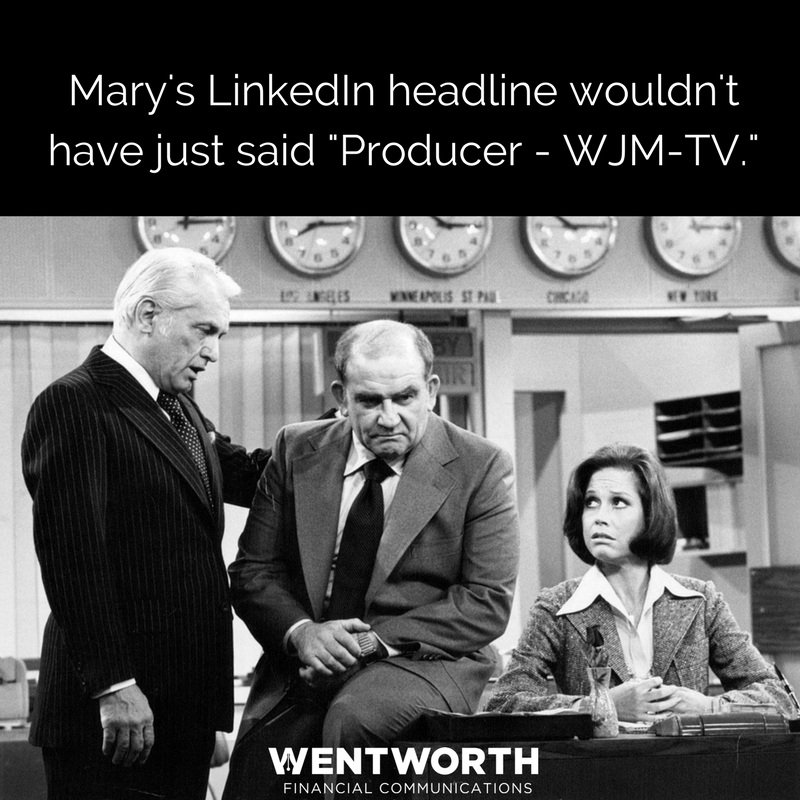 When actress Ms. Moore passed away on January 25, many of the obituaries and tributes that have been published further articulated just how influential the show and the lead character that Ms. Moore played, Mary Richards, have been. The character showed that you could be ambitious without being overly self-promotional; while Mary Richards was very serious about her journalism career, it never prevented her from forming deep relationships with her colleagues. One of the groundbreaking aspects of the show was that, unlike most sitcoms that preceded it, The Mary Tyler Moore Show showed that there didn't need to be a clear delineation between our work lives and our personal lives.
These challenges—building your personal brand without being overly self-promotional and knowing how to balance work and personal lives—are some of the main challenges that financial advisors, investment bankers, and other financial professionals face in their marketing and business-development efforts. Building a LinkedIn profile and using LinkedIn to reach prospects are two areas where these challenges play out directly.
If you're a financial advisor and you're struggling with how to fill out your LinkedIn profile, take note of some of the lessons that Mary, Lou, Rhoda, Phyllis, Murray, and Ted taught us.
Turn the World On With Your Smile (and Your Headline)
The first two things that people see when they look at your profile are your picture and your headline. This is extremely valuable real estate so don't waste it. Even if you aren't blessed with Mary's megawatt smile, you should still smile in your profile picture. Don't look stern or use "closed" body language, such as standing with your arms crossed. In terms of what to wear, pick an outfit that reflects the professionalism of your firm. You don't necessarily need to be as fashion-forward as Mary, but you don't want to be as drab as Lou. Wear a nice, modern suit or blazer, and incorporate one colorful element (such as a tie or a scarf) to help your picture stand out.
Your headline on LinkedIn is the text that shows up directly below your name. This auto-populates with your current job title, but you can override this and write something more creative and descriptive (within compliance guidelines, of course). Rather than defaulting to your title, you want to use this space to describe the value you provide and/or who you specialize in helping. For Mary, rather than having "Associate News Producer – WJM-TV," she could say "Cutting Edge TV Producer Who Brings Trusted News to Minneapolis Residents Each Night." For a financial advisor, rather than just having "Vice President and Senior Wealth Manager" as your headline, you could have something along of the lines of "Financial Advisor Helping Chicago-Area Business Owners Prepare for Retirement and Succession."
Take a Nothing Job Title and Suddenly Make It All Seem Worthwhile
One of the most important parts of your LinkedIn profile is the "Experience" section, and many people don't put much thought into filling out this section. Instead, they just copy and paste from their resume. This is a mistake for two main reasons: 1) your resume probably was written to impress future employers, not future clients, and 2) your resume uses words that match the terms that hiring managers use to search for new recruits, not the words that prospects use to search for a new financial advisor.
Use the "Experience" section to highlight how your previous jobs have prepared you to be a great financial advisor. Be sure to include a short sentence or series of phrases for each job describing what you actually did in that role; your titles alone won't mean much to people outside of the wealth management industry. For example, rather than just stating that you help clients with "wealth management," include bullet points about the various aspects of wealth management that you help clients navigate, such as estate planning, portfolio management, tax planning, and risk management. Alternatively, you could list the sorts of questions that you help clients answer.
It's important to think about LinkedIn from a search-engine optimization (SEO) perspective. Potential clients use the search box at the top of LinkedIn to search for professional advisors within their network. Also, LinkedIn profiles can be among the top results when someone searches on Google for financial advisors who serve specific niches. So when you fill out your profile, you want to populate it with terms that your ideal potential clients would use when searching for someone like you.
Love Is All Around, No Need to Waste It
Many financial professionals will leave the "Interests" and "Volunteer Experience" sections of their profiles blank because they feel it would be unprofessional to include anything that wasn't strictly about their careers. This is a mistake. Anyone whose career depends on being good at "business development" knows how important it is to form a personal connection with a prospect and find common ground. Your LinkedIn profile can help you do this.
Listing some of your favorite hobbies or activities in the "Interests" section can be a great way to show your personality and give prospects an opportunity to find common ground. Under "Volunteer Experience," you should definitely include any organizations where you have volunteered or served on the board. Not only does this show that you are committed to contributing to the community, it also is a good way to network with other people who are involved in those groups.
For financial advisors and other financial service professionals, your LinkedIn profile can be one of your most important marketing tools. A large percentage of your potential new clients will check out your LinkedIn profile when they are learning about your practice. (And if you don't believe me, just Google your name and see what one of the first search results is.)
You can't afford to leave money on the table when it comes to this valuable piece of real estate. Having a robust profile that describes the value that you deliver for clients using search-friendly terms won't guarantee that you'll instantly generate new business via social media or show up on the first page of Google rankings, but… you might just make it after all.
---
About the Author

Scott Wentworth is the founder and head writer at Wentworth Financial Communications. Scott and the team of writers and editors at WFC help professionals across the financial services industry build their brands by creating investment-grade white papers, bylined articles, newsletters, blogs, social media posts, and other forms of content marketing. As great as Ted Knight was on The Mary Tyler Moore Show, Scott will always think of him as Caddyshack's Judge Smails first. "You'll get nothing, and like it!"